Die morsche Schwelle
Ein Teil der Schwelle war durch das alte, undichte Dach über Jahre dem Regen ausgesetzt gewesen. Dieses Stück muss nun ersetzt werden..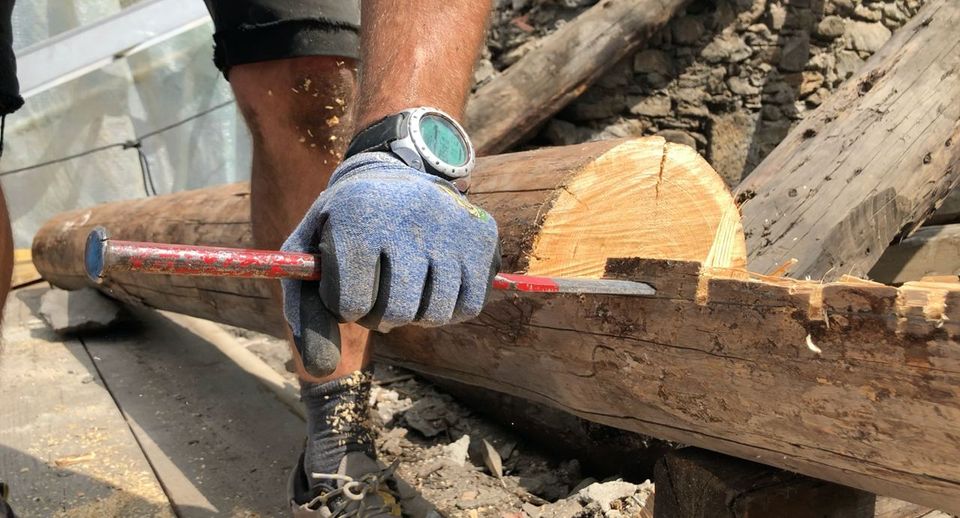 An der West- und Ostseite des Hauses liegen die beiden Schwellen, welche die Last des Daches auf die Mauern ableiten.  Die alten Mauerschwellen sind relevant, da neue darauf gelegt werden. Unser Dach wird ca. 30 cm erhöht, um über den alten Dachstock zu kommen. Die Kraftverteilung muss gewährleistet sein, ansonsten wird die Aussenwand mit der Zeit Schaden erleiden.
Eine dieser Schwellen ist zu stark beschädigt, als dass sie ihre Funktion erfüllen kann. Es ist also unumgänglich, diesen Abschnitt zu ersetzen. Da es sich um einen Rundbalken handelt, muss auch ein solcher wieder eingesetzt werden. Mit einer liegenden und einer stehenden Blattverbindung wird der Ausschnitt eingesetzt. Um den neuen Balken/die neue Schwelle auf dem Rundstamm zu fixieren, wird dieser mit einer Dexel (https://de.wikipedia.org/wiki/Dechsel) bearbeitet. Anschliessend liegt die neue Schwelle bündig auf. Mit Schrauben wird sie fixiert und ist somit bereit für die Sparren (https://de.wikipedia.org/wiki/Sparren).
On the west and east side of the house are the two sleepers that transfer the load of the roof to the walls.  The old wall sleepers are relevant because new ones will be placed on top of them. Our roof will be raised about 30 cm to get over the old attic. The force distribution must be guaranteed, otherwise the outer wall will suffer damage over time.
One of these thresholds is too badly damaged to fulfil its function. It is therefore unavoidable to replace this section. Since it is a round beam, it must also be replaced. The section is inserted with a lying and a standing leaf joint. In order to fix the new beam/sleeper to the round log, it is worked with a Adze. Then the new sill lies flush. It is fixed with screws and is thus ready for the rafters.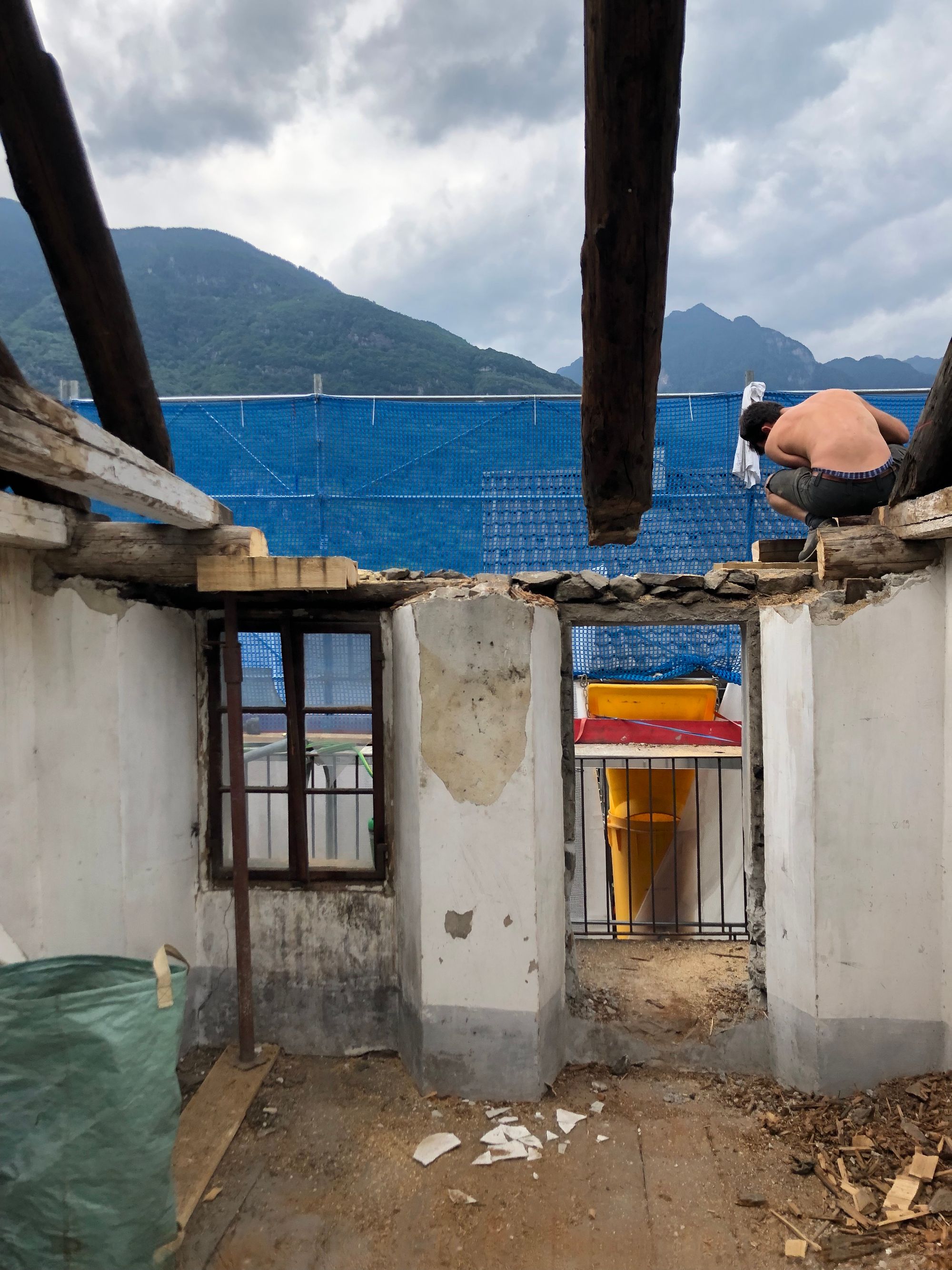 Enjoying these posts? Subscribe for more